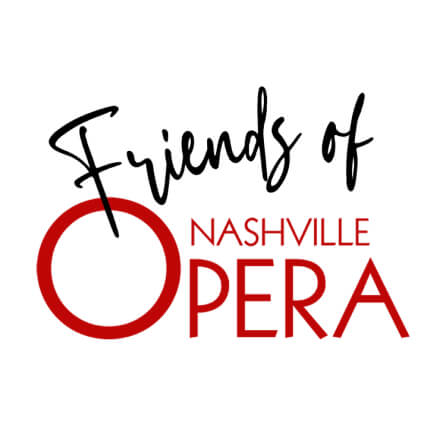 Nashville Opera Guild has been supporting the work of Nashville Opera since its founding in 1981 and, after over 40 years the pillar organization is changing its name to Friends of Nashville Opera. Help Nashville Opera expand arts and music in Middle Tennessee.
When you join the Friends, you...
Educate
• Reach over 20,000 children annually with Nashville Opera On Tour
• Provide college scholarships to vocal music majors
• Give emerging artists stage experience
• Underwrite opera tickets for area college students
• Sponsor free public concerts throughout the area
• Support our new national All-Access Opera program that helps students of all abilities enjoy opera
Nurture
• Provide hospitality to cast and crew of each show
• Underwrite masterclasses for emerging artists
• Discover new talent by hosting annual auditions with the Laffont Competition—Metropolitan Opera
Support
• Volunteer with tasks to help Nashville Opera put its dollars on the stage
• Help raise funds to sustain Nashville Opera's education and outreach programs
Feel Great!
• Meet others who share a passion for opera
• Expand the appreciation of opera throughout Middle Tennessee
• Know that you are making a positive difference in the lives of students, aspiring artists, our community, and Nashville Opera
Benefits of memberships
• Invitation to our annual Friends membership meeting
• Invitation to the Friends' Premiere Dinners before select opera performance at TPAC
• Invitation to La Bella Notte, our annual gala event
• Admission to the Sneak Peek of our annual children's opera before it travels to area schools
• Subscription to our award-winning magazine
• Opportunity to attend Emerging Artist Masterclasses
• Opportunity to attend Meet-the-Maestro events
• Opportunity to attend an exclusive opera rehearsal look-in
• Invitation to attend annual Metropolitan Opera Auditions
• Plus numerous Friends social events throughout the year
Annual Dues
$40 Individual | $50 Family | $100 Supporting
$15 Student | $25 Junior
Interested? We'd love to know!
Sign up to receive emails from us.